Comcast is finally getting around to rolling out their perpetually-delayed version of the TiVo. The unit is actually a firmware-modified Motorola HD DVR. The product was announced at CES last year, and hit delay, after delay, after delay. But, Comcast appears to be ready to offer a "significant rollout" of a few markets in time for CES this year.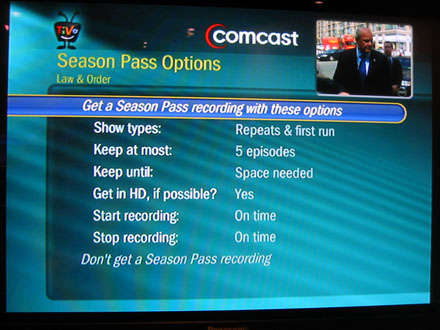 Image source: Reuters
So, what is the magical upgrade? First, you have to pay extra, about $6 $3/month to get the TiVo update pushed to your device. Yes, you're perpetually paying for a software update installed once. If it's any consolation… Comcast will send you a TiVo-style remote which simply adds the classic TiVo button.
So, why should you avoid it? Well, let's count the reasons:
1) You're not actually getting the TiVo operating system. Much like Verizon Wireless's Malware User Interface, you are getting the Motorola DVR OS (Linux) with a Java application running on top of it. And, from what I've heard, like the VZW UI, there's added friction as the OS passes each menu command and item along.
2) You can't remove it, there's no uninstall option. The only way to stop paying the TiVo surcharge is to return your DVR and have them re-issue you a new/refurbished one.
3) All the advanced TiVo services are not available. No TiVoToGo, no media sharing, no eSATA (yes, despite the Motorola DVRs now carrying an eSATA port, even the TiVo update doesn't enable them). In short, if you were thinking this software renovation was actually going to add features, sit back, and take a moment of silence.
4) TiVo Applications are not available. No Amazon Unbox. No Real Rhapsody.
5) All your favorite TiVo hacks aren't going to work on the device. You probably figured this out already.
6) Existing functionality that makes the Motorola HD DVR stand out… may wind up being disabled. Like using that FireWire port to capture video? There's no guarantees yet it will keep working… sources haven't responded on it. While it may keep working with TVs, the firmware may illegally enable 5C on all channels (much like Comcast illegally did in the past, and quietly removed the illegal restriction).
7) Like your USB and Ethernet ports not working on your Motorola HD DVR from Comcast? You're going to keep liking them, the service doesn't use TiVo to connect or communicate with, instead opting for Comcast's existing guide. Will Comcast ever remove those firmware hinderances? Well, like with TiVo, as soon as they figure out a profit structure (per seat, per user, and per port… of course).
Bottom line… If you like the TiVo interface at $6/month (that's $72/year for those of you in Reston, VA), then sign up for the service. Otherwise, I'd strongly suggest telling TiVo and Comcast to put up or shut up. And, the best way you can do that is with your wallet… by avoiding the service.
What can Comcast and TiVo do to fix this? Address those seven things listed above. If Comcast/TiVo added TiVoToGo and Media Sharing… it might start to be worth the money… if they cut the cost in half.
Those of you that bought lifetime memberships and a TiVo HD may just break even before all that happens, hopefully I'm wrong on that.
Update: As commenters have pointed out, Comcast is offering TiVo for $3/month, not $6/month. Unfortunately, pricing varies by market, and the $6 was what I was briefed on previously (nor is TiVo available in my market… or I would have bit the bullet and installed it to save you the time). However, it is still a perpetual monthly charge you will be paying for until either Comcast drops the charge… or you drop your Comcast TiVo.