I love it when I get to announce a new car. Okay, maybe I can't take all the credit for this one. But, I do have the honor of sharing with the huddled masses two amazing new cars, including an entirely new nameplate. If it's any consolation to GM, I'd be happy to put down my deposit for the first one today.
How it happened
Out of the blue, I decided to pull up my OnStar vehicle profile, and check its maintenance. I don't know why. But, I did. And afterwards, I was once again ticked that my 2009.5 Pontiac G6 V6 (with FlexFuel), could not take advantage of even the most basic of OnStar RemoteLink features. Generation 8.0 OnStar "won't ever" support RemoteLink, sadly.
Just for fun, I decided to pull up the list of cars which did support RemoteLink. Sheer boredom, I was expecting nothing but what I knew.
And then I saw it. A 2014 Model Year button. Oh, this must be a mistake, I thought. Nothing will show up. Null entry, move on. Right?
Oh how glad I am that I clicked that button.
Chevrolet + Pontiac G8 = ? (Oh, just look below!)
When I did, my jaw dropped. Because right there, in black and white, was the name of my next car — the 2014 Chevrolet SS Performance sport sedan. Yes, that's right, the full name of GM's answer to Dodge's Charger SRT8 and Ford's Taurus SHO is revealed.
It has been widely held that this car will be a captive import of the Holden Commodore VF, under the next-generation of Zeta platform architecture. You may remember that GM did this a couple times before, with the much-beloved Pontiac G8 and last-generation GTO.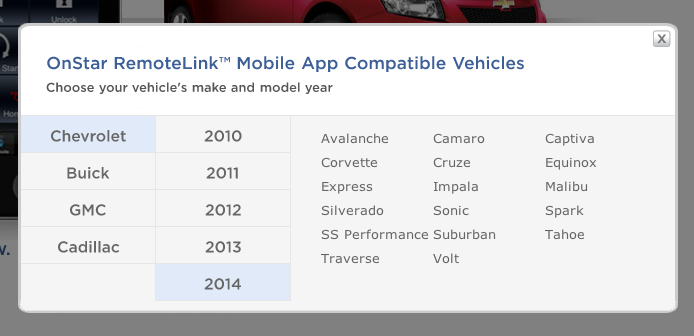 All I can say is please GM, please do this right. In Australia, the Holden Commodore is sold (optionally) as a bi-fuel car, supporting natural gas and gasoline. That feature must make it over here, in some form, for this car to be a big winner. CNG natural gas is not only more environmentally efficient, it costs as low as $2/gallon to fill up. Out here in California, our utilities have public CNG gas stations everywhere. Imagine a 426 horsepower beast that can refuel for $2 per gallon, and fall back to gasoline when convenient. That's possible, it's being sold in Australia, by GM today!!
Beyond that, all I can ask for is a Pontiac G8-style option, either as a dealer-install or from the factory. Call it the GTO Package, and let folks have a Pontiac heritage-inspired trim layer. The cost would be trivial, even Holden customers were willing to pay extra to style their cars like the iconic Pontiac G8.
Bias: I do support the return of Pontiac. Anything that brings Holden's over here is personal to me. Someday, maybe, just maybe, Holden and Pontiac could team back up the same way Buick and Opel do today.
Cadillac XLR + Battery = ? (Look below, you know the drill.)
Now, onto Cadillac. The same site also confirmed that the Cadillac ELR (Electric Luxury Roadster… wait, we're not supposed to say those letters stand for anything 😉 ), is a go for the 2014 model year. General Motors had confirmed the ERL was green lit for production (after first claiming Bob Lutz's Tesla S-killer, had been killed off)… but this is the first time we have a date-certain model year. All signs point to the ELR being a faster, four-seat, Delta II-based offspring of the Chevrolet Volt.
No Corvette-based Alpha platform, or any RWD in sight, sorry. This may fill the void of the Cadillac XLR nameplate, but it takes a very different track to get there. I hope to be wrong on both points, but I don't expect to be. Mules of the ELR have been shown around Detroit in not-so-convincing Chevy Volt costumes.
Regardless, I feel really bad for the OnStar web admin team. I actually applied to be a member of the OnStar team awhile back, and know a few people working there. It's certainly not a good day when you hand someone the keys to announcing a couple of great new products, way ahead of schedule.