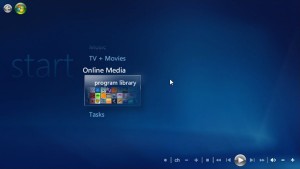 I mostly added this post for easy reference for myself, but here it is for everyone else too. To add Media Center to the Windows 8 Release Preview, install Windows 8 completely. Then, log in and go to Desktop. Open up Control Panel from the Desktop and go to Windows Update.
In the bottom left corner of Windows Update (inside Control Panel), click Add Features to Windows. A wizard will pop up, tell it that you already have a product key.
Here's the key: MBFBV-W3DP2-2MVKN-PJCQD-KKTF7
Yes, this code is in the Windows 8 Release Preview Frequently Asked Questions. But, it's buried with a lot of clicks to get to. This is in a search-engine friendly format for your convenience.
One important note that the guides will not tell you. Close all apps before doing this! Windows will force a reboot after initiating the install. This is because adding Media Center to the Release Preview changes your Windows "edition" to a different ID. What's disappointing is that Microsoft doesn't warn you of this. I actually lost a couple hundred words in a document I was writing, because Windows didn't do a graceful reboot… and I wasn't using an app with autosave.
Afterwards, run Windows Update continuously until it reports no new updates available. Windows Media Center updates will only appear after installing the feature, so you may have to go through Windows Update a few rounds to totally get up to speed.
Enjoy Windows Media Center on the Windows 8 release preview. Keep in mind that the Release Preview will cease functioning on January 15, 2013. You'll need to upgrade to the final version, or stop using it by then… unless you like using Windows one hour a time, in Safe Mode only, that is.