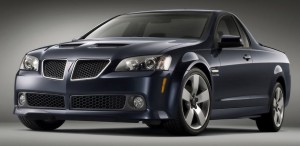 Apparently GM Holden gets to rebadge while Americans don't. The car maker is poised to begin selling the Pontiac G8… in Australia.
The Pontiac G8 saga really couldn't get any weirder at this point. The G8 is based on the Commodore VE, which is sold in Australia. Now, Holden will be selling the G8 in direct competition to its own, essentially identical car. Meanwhile, shipments of the G8 to the United States, have come to an end.
Meanwhile, GM and the U.S. Government's Auto Task Force don't find that to be a viable option here. The Pontiac brand is completely badge engineered, with the G3, G5, G6, Torrent, Solstice and G8 all badge engineered on various levels. However, Holden appears to have found a market, for those that want cars in clothing that actually matches their style.
Unfortunately, GM doesn't seem to want to listen to their American customers, who don't have the option of buying a Commodore VE from their local dealer (let alone anything else Pontiac in about 12 months). GM Detroit feels you'll be fine with a Camaro, Malibu, or something Buick.
The Pontiac G8 ST will also be released, again only in Australia. The sport truck was supposed to be released in the United States, but was scrapped when the economy declined.
It is not clear how long Holden will be able to sell Pontiac-branded cars, possibly through 2010 as limited edition units. However, backlash from American executives might kill the plan entirely. Those executives can't feel good knowing there are enraged, driven, organized Pontiac supporters… who are continuing to organize.
Oh, and in case you were wondering, the pricetag comes to $1,000 Australian to have your Commodore VE order turned into a Pontiac G8 order.
I would love to hear an explanation as to why Pontiac can't become a branded option, or a sub-brand of Buick… while Holden begins direct sales of the Pontiac G8. Why is it good for Australia, but not for America, where Pontiac is headquartered?
Update: As CarSales.com.au reports, Holden does not appear to be allowed to use the Pontiac badge. However, the cars will be identical to G8 units, with all G8 parts and styling. It's not clear why Holden is choosing to do this, either to use up remaining G8 supplied parts, or as an internal corporate protest to the discontinuation of the G8 export program. Either way, Holden clearly believes there's a market in Australia for what Pontiac had in the United States.