Today, my Westinghouse W3213 HDTV died. I camped outside of a Best Buy for a good 12 hours in 2006 on Black Friday, nabbing the TV for the nice price of $479.99. Just for comparison, Westinghouse's equivalent model today still sells for $679.99.
But, enough about me bragging, the TV is dead after all. But, wait! I had the foresight to get a Best Buy Product Service Plan (PSP). I'll let you know how it goes on getting that resolved. Best Buy has my TV, and they're currently expecting to have it back to me in about 10 days (not unreasonable really).
So, now I'm TV-less, TiVo-less, right? Wrong. Sure, I have Windows Media Center, but I can't get all my channels on that without CableCARD.
In comes Slingbox. With Slingbox, all my PCs, Macs, and my WIndows Mobile phone just shifted the TV onto my screen, all via Wi-Fi. I have full control of my TiVo HD, just as if I was sitting in front of the (now absent) TV.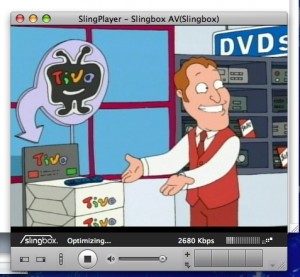 Which reminds me, I haven't yet poked and prodded TiVo over why they haven't added Slingbox functionality to the TiVo software stack. I shouldn't need to own a Slingbox to do all this… but hey, that's a familiar mantra here, I only have a TiVo because Microsoft won't fix CableCARD DRM.
Even though I only have the low-end Slingbox AV, it works great for handling the different HD and non-HD content feeds. The Aspect Ratio menu lets me break through common headaches, like DTV video that is 480i… but got recorded in 720p. If that sounds like greek to you, don't worry, it just means that you don't have to look at a bunch of black bars (letterboxing and pillarboxing). You just see the TV, and it can sit on top of other windows at all times if you chose.