I wrote FCA a letter with a simple question, to my surprise, they responded.
Like most FCA cars sold in the United States, it has available a little-known-but-amazing option to add on a lifetime, near-comprehensive, bumper-to-bumper warranty. The warranty is one of the best I have ever seen from a first-party warranty provider.
Most think that Chrysler's lifetime warranty options ended when Chrysler Group filed for bankruptcy… and the free lifetime powertrain warranty ended. The extended lifetime warranties, however, still live on to this day.
The question I wrote to Mopar regarding, was if parts that normally do not void the manufacturer's warranty, like a third-party Cold Air Intake, could void the Mopar extended warranties. Companies like K&N heavily market the fact that their Cold Air Intakes do not void the manufacturer's powertrain warranty.
FCA replied that yes, it can void vehicle service contracts for warranty extensions, simply based on the presence of aftermarket parts.
But Is It Legal?
Because the protection plans are technically service contracts, they are not bound by the Magnuson-Moss Warranty Act, which compels warranty providers to establish that a modification was more-likely-than-not the cause of a component's failure.
As a result, FCA said that any part not within "manufacturer specification" can cause the extended warranty vehicle service contract to be void.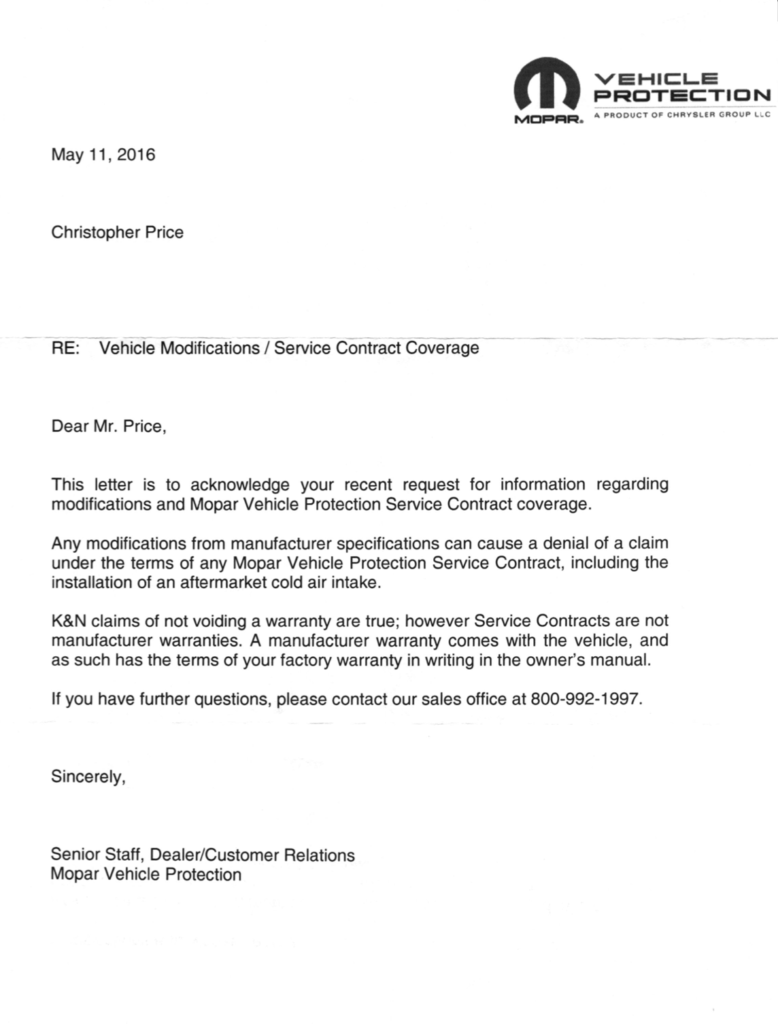 This also appears to extend to Mopar-sold parts. According to Mopar's general performance parts warranty: "The addition of performance parts does not by itself void a vehicle's warranty. However, added performance parts (parts not originally supplied on the vehicle from the factory) are not covered by the vehicle's warranty, and any failure that they may cause is also not covered by the vehicle's warranty"
Not Worth The Risk
It is highly likely that Mopar Vehicle Protection may argue that their own (Mopar-built) parts, even ones that do not void the original vehicle warranty, may result in a voiding of the Mopar extended service contract.
If your powertrain fails in a major way, Mopar Vehicle Protection is almost certainly going to ask questions. If they find a reason to not pay thousands of dollars to swap in a new engine or transmission, you can bet that the odds are that they will make a determination not to do so.
Bottom line, if you have a Mopar protection plan, especially a lifetime Mopar extended plan, I would advise against making any mechanical modifications. Even a Mopar exhaust. Which happens to be the only other Mopar-issued performance part for the Chrysler 200 today.
I'll spare you my bemoaning of the paltry assortment of Mopar parts for the Chrysler 200. Its less-sporty platform mates (Pacifica and Cherokee), already have many more.
Room for Policy Improvement
Frankly, I think there's room for Mopar to improve here – in a way that will be profitable for FCA. General Motors, for example, clearly states which performance parts do not void the manufacturer warranty. Those parts are covered on GM-sold Extended Protection Plans. It would help Mopar sell parts, to clearly define which part numbers are covered under the manufacturer warranties (original and extended), as well as which do not. If GM can do it, so can FCA.
Cars are lasting longer and longer today, and they're also costing more to repair. The people with disposable income, and the savviness to purchase a Mopar service contract, are also the same people with enough disposable income to buy Mopar performance parts. And now, they won't.